pagina dedicata a me stesso, alla MTB, all'emulazione ed alla dispensa dal servizio civile !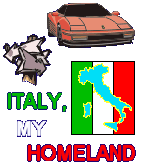 About me … My name is Luca, I'm an italian guy, born 4 april 1974 in Carpi (Mo), north-Italy.
Weight: 69-71 Kg
Height: 177 cm
Hobbies: sports - especially mountain bike -, videogames and emulation, digital photograph and reading (fantasy book and sometimes comics).
9 december 1999…
Degree in law TAKEN! Mark : 103/110 Whoaaaaaaaa! What to say … My 18 years of studies END here!
14 november 2000 Dispensa dall'obbligo di prestare servizio civile, OTTENUTA !!! Amici… ho guadagnato un anno di vita. Da oggi sono un uomo libero. Un gran giorno… secondo solo a quello del conseguimento della laurea.
...